Office Printers, Printer Repairs, and Office Equipment in Grand Rapids, MI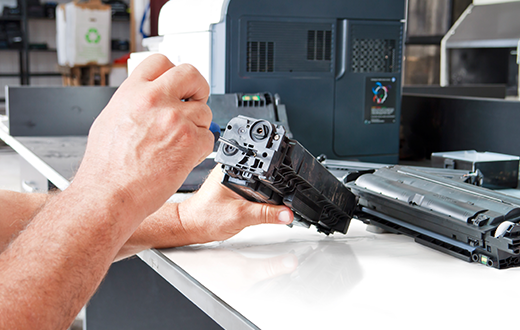 As a proud Toshiba dealer, we offer a variety of multifunctional office printers. For whatever your preference, from black and white to colored office printers, we offer cost-friendly solutions. At Excel Business Solutions, you don't have to sacrifice quality for price. Our skilled technicians will help you select the office printers that suit your needs and your budget.
As office security becomes a growing concern, we provide our clients with Toshiba SecureMPF. Using innovative technology and techniques, the SecureMPF uses data encryption and data erase features to ensure that your office printers are safe from any security threats and that your sensitive information remains private.
Printer Repairs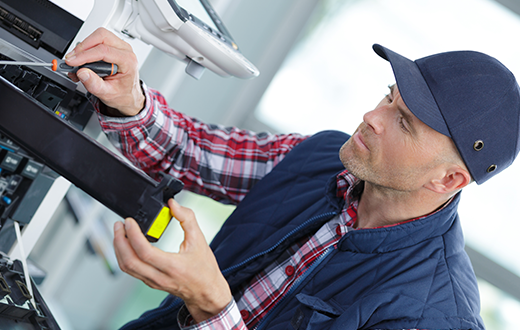 If your printer goes down in the middle of a workday it can be detrimental to your business. As the hours pass, your workload may increase substantially, and sooner than you know, you are stuck with a pile of pending assignments that can set you back a full workday. Needless to say, printer repairs should be dealt with immediately.
Other companies may leave you hanging for hours, or even days, but not Excel Business Systems. Our 3 or Free Service Guarantee ensures that your printer repairs will be fixed within a three-hour window, or the next service call will be on us. With over 30 years in the printer business, we provide best practices and efficient service to keep our clients satisfied and to keep their printers up and running 24/7.
Office Equipment
We know that your office equipment is what keeps your business running smoothly. Over the last 30 years, we've kept one step ahead of the game to provide our valued clients with new and innovative office equipment solutions that increase productivity and keep business owners satisfied.
With the Toshiba guarantee, if your Toshiba office equipment is out of function for 48 hours, a free loaner will be provided, and a complimentary replacement will be provided if printer repairs cannot be made. We offer a variety of Toshiba office equipment copiers and printers with functions such as:
● Black and White Printing
● Color Printing
● Scanning
● Multi-functions, and more
Office Printers in Grand Rapids, MI
Grand Rapids has changed a lot over the years. But one thing remains the same; Grand Rapids remains a prominent business hub for entrepreneurs all over the Midwest. From traditional furniture workshops to art museums and breweries, Grand Rapids is an ideal place for small business owners to post up shop.
At Excel Business Systems, we provide Grand Rapids offices with state of the line office equipment such as office printers and copy machine parts to help your business run smoothly. We also assist with quick and efficient printer repairs, so your office printer gets back up and running swiftly and you can get back to work.