Office Equipment, Printer Repairs, and Office Printers in Aurora, MN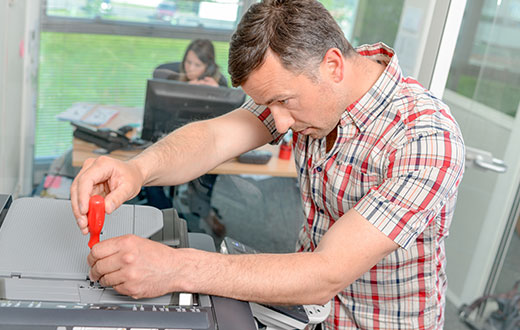 Purchasing office equipment does not have to be a hassle. From copier supplies to purchasing new office printers, we help you select the printer that suits your office's demands at a price you deserve. At Excel Business Systems, we are a proud carrier of Toshiba printers and other quality office equipment. We know that your office printers are an integral part of your business, which is why it is our goal to offer you the highest quality possible at attractive rates.
We know that your office doesn't function without your office printer, which is why we provide efficient and professional printer repairs for when your office printers are not functioning as they should. Our printer repair service guarantees a professional technician at your door in 3 hours or less, or you're next service call is free.
Copier Supplies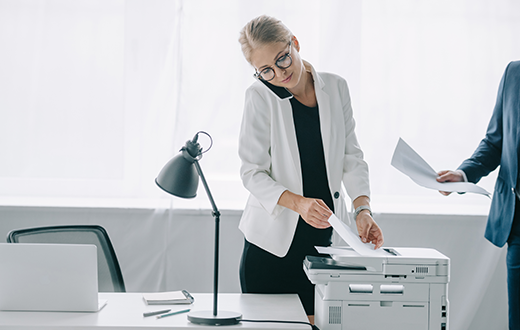 At Excel Business Systems, we pride ourselves on being one of the foremost copier supplies providers in Aurora, and surrounding areas. With a wide selection of copy machine supplies, we supplement all your supply needs to keep your office printers and copy machines equipped with all the tools needed to get the job done.
We also lease copiers to businesses that are looking for quality office equipment at great rates. No matter if you're looking to lease copiers for long-term, or rent copiers for a one-off project, we ensure that you get the best copier available at competitive rates. Contact us to lease a copier and learn more about our services.
Lease and Rent Copier
Renting a copier for your business should not have to be a headache. When you're looking to rent a copier we make the process easy and hassle-free. By offering the best quality Toshiba printer rentals, we equip our clients with the office equipment they need to succeed. That is why Aurora business owners trust Excel Business Systems to rent copiers and Toshiba printers that exceed their expectations and get the job done right the first time around.
Printer Repairs for Toshiba Printers in Aurora, MN
With a community built on support and wholesome values, it's no wonder that a select few citizens in St. Louis County can proudly call Aurora their home. Known as the "Star City of the North" citizens and visitors alike can enjoy the natural beauty of the outdoors during the day and catch a clear view of the Northern Lights in the evening. Aurora truly is a unique and wondrous slice of the American outdoors.
At Excel Business Systems we take pride in over 30 years serving offices and business owners in Aurora and the surrounding areas.  Offering a wide selection of quality office equipment including copy machines and office printers, we pride ourselves in carrying the best Toshiba printers available at great rates. Whether you're looking to rent a copier, buy copier supplies, or get a printer repair, we work with you every step of the way.