5 Things to Check While You Choose a Company for Printer Repairs
When choosing a company for printer repairs, it's essential to consider several factors to ensure you get reliable and high-quality service. Excel Business Systems provides printer repairs in and around Grand Rapids, MN, Virginia, MN, Eveleth, Hoy Lakes, Ely, MN, Aurora, MN.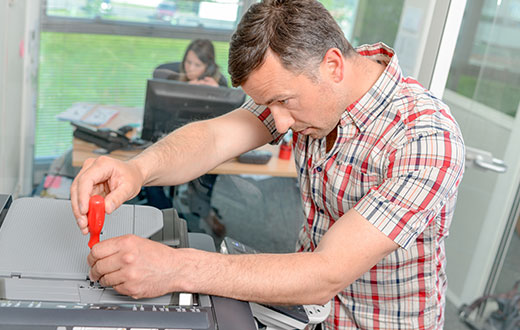 Here are five things to check:
Experience and Expertise: Look for a company with a proven track record of experience in printer repairs. Check how long they have been in the business and whether they specialize in servicing the type and brand of printer you have. An experienced technician is more likely to diagnose and fix issues accurately and efficiently.
Certifications and Authorized Service Provider: Check if the company is certified by the printer's manufacturer or if they are an authorized service provider for the brand of printer you own. Authorized service providers often receive specific training and have access to genuine parts, ensuring better quality repairs.
Customer Reviews and Reputation: Research the company's reputation by reading customer reviews and testimonials. Look for feedback about their professionalism, response time, and the effectiveness of their repairs. Online review platforms and social media can be valuable resources for this information.
Pricing and Warranty: Compare the pricing of the printer repair services offered by different companies. Be wary of companies that offer extremely low prices, as they might compromise on the quality of repairs. Additionally, inquire about warranties on the repairs performed. A reputable company should provide a warranty period on their work to give you peace of mind.
Turnaround Time and Support: Consider the company's turnaround time for repairs. A reliable company should have a reasonable time frame for diagnosing and fixing printer issues. Additionally, check their customer support channels to ensure they are responsive and helpful in addressing your inquiries or concerns.
Bonus tip: It can also be beneficial to check if the company offers preventive maintenance services. Regular maintenance can extend the life of your printer and prevent potential issues before they become major problems.
By considering these factors, you can make an informed decision when choosing a company for printer repairs, ensuring your printer receives the best possible care. Please call us without any hesitation.